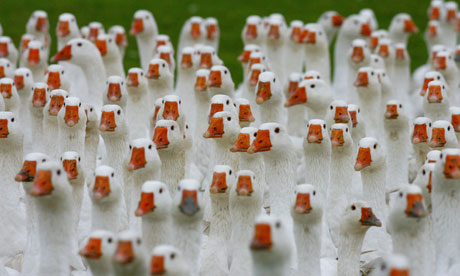 On a crisp, clear day marking the start of autumn - the season of mists and mellow fruitfulness - I came across an article on
The

Guardian

online about poultry producers in the UK receiving record orders for Michaelmas geese
- a rather traditional repast. The article explains, "The goose fell out of fashion during the 1970s and 80s but in recent years has turned into a popular alternative to turkey at Christmas." Michaelmas does not make much of a mark in Canada. Ardent anglophile though I have been for many years, I was barely aware of it myself until reading about "Michaelmas term" at Oxbridge Colleges. A
historical website
explains Michaelmas thus: "Michaelmas, or the Feast of Michael and All Angels, is celebrated on the 29th of September every year. As it falls near the equinox, the day is associated with the beginning of autumn and the shortening of days; in England, it is one of the "quarter days"."
Holidays such as Michaelmas were at one time intrinsically tied to the ebb and flow of spring and harvest, the natural calendar, and seasonal food. These categories of now-defunct holidays are, naturally, religious in origin. But they served as more than religious festivals, and marked seasonal changes and important yearly events in the life of local communities. As historian E.P. Thompson explored in his landmark book
Customs in Common
, pre-industrial English holidays consumed a great deal of the calendar and were considered sacrosanct. It is not surprising that the coming of industry and the work-time discipline of the factory were not entirely compatible with such a free-wheeling festival-minded populace. Many of these holidays slowly faded, until we are today left with scant few statutory holidays, bank holidays, and the like.
The revival of goose meat for Michaelmas and Christmas may just be, as some detractors might suggest, some sort of nostalgic bourgeois fantasy. But it certainly reminds us of a time less dominated by materialistic demands, when festival, relaxation, community and family ties could be indulged in at greater leisure and with less sense of guilt. Not in any way some mythical "golden era," but one with slightly different priorities. And we, whenever we give a whole day to the preparation and enjoyment of a meal with friends, for example, pay homage to the past.